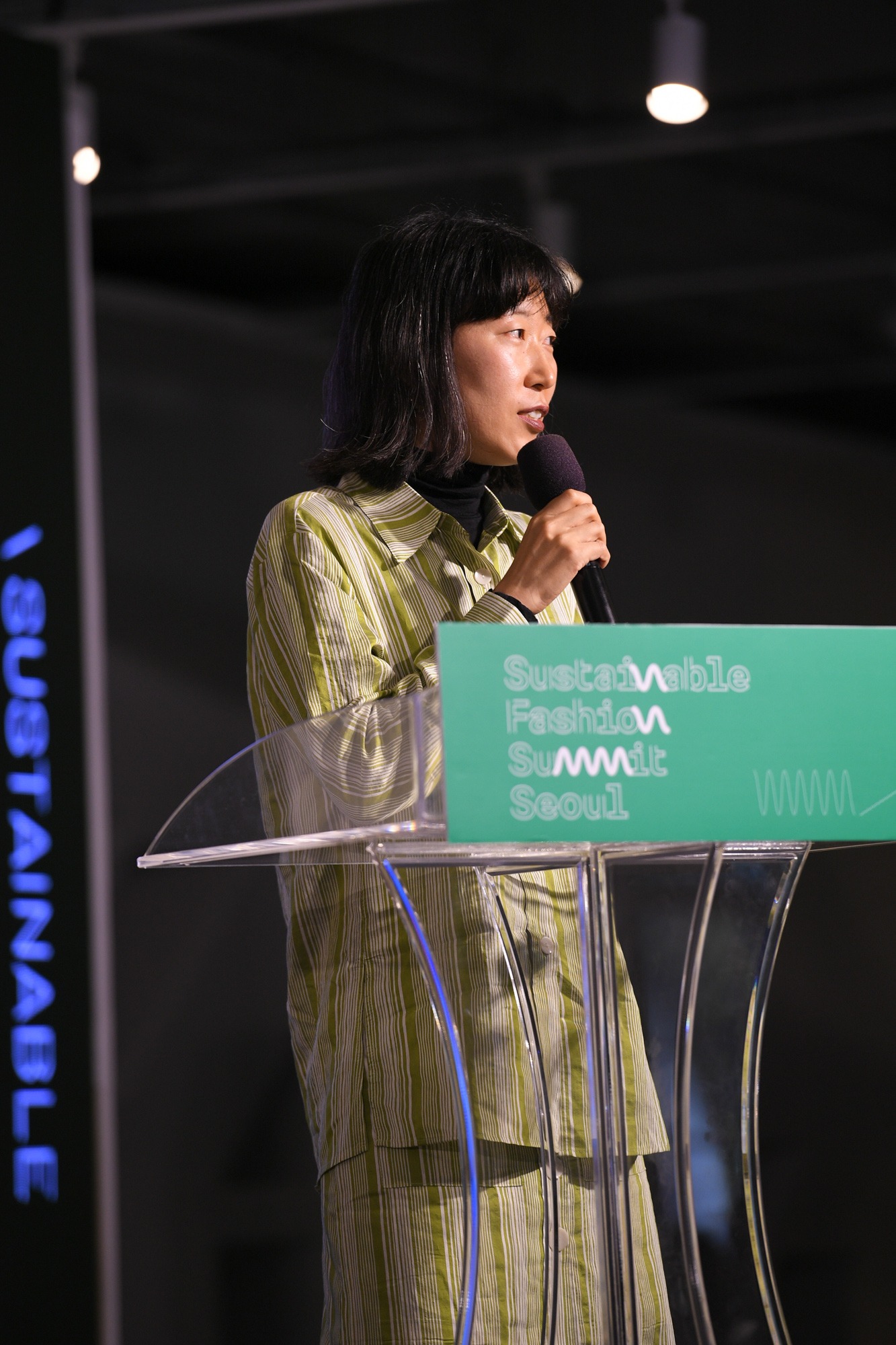 Thank God!
After working hard for weeks to prepare Sustainable Fashion Summit (SFSS) 2019, I could finish my speech in a good atmosphere.
Honestly, it was such exciting challenge for me, who had not had much experience of talking in front of many people. I was little embarrassed by the set-up of the day that was different from the rehearsal. And I found myself saying message on the prompter, such as 'Five minutes left, Please wrap it ip quickly,,', since I was a novice speaker 🙂
Quite Hopeful
This event has grown compared to last year's, Sustainable Ethical Fashion Forum 2018. Also the name, SUMMIT!, grew as well. I would like to believe that the interests here in sustainability has also grown. Thank you for all people who came up to me after my speech. It's always fun to talk to people who have the same vision.
Explaining the correlation between my name and my work 🙂
"This era requires creativities and this is designer's job."
SUSTAINABLE fashionable ETHICAL poetical
These are categories for this blog as well. In my speech for SFSS, I followed this slogan to talk about our philosophy. Here I'm going to briefly share a short video of our ss20 collection, 'Intention of the Land', as I demonstrated in chapter of 'fashionable' during my speech.
Plastic Free 99% Collection
For this collection, we have botanical-dyed organic cotton, Tencel, and linen fabrics with no plastic zipper and no plastic button, but biodegradable corozo nut button. It means we could a little bit free from micro-plastic problems that would be occurred with using of clothing or after disposal.
short video of our ss20 collection
Together with Pioneers of Sustainable Fashion
24 experts were invited to this year's summit, including me. Especially the speeches by Kim Ki Wan, CEO of Vision land and Amy Hall, Vice President of Eileen Fisher were very memorable. Their lengthy efforts and sincerity were ringing the others could not imitate.
Kim Ki Wan, CEO of Vision Land
Amy Hall of Eileen Fisher
Sustainable Fashion NEW WAVE!
The session I participated in was this. Under the initiative of Yoo Jae Bu, editor in chief in Fashion N, 5 Korean brands, including OPEN PLAN, addressed their respective practices and efforts, and discussed them with Amy Hall and Tara St. James. Under the theme of "Fashion for Art and the Public" Lee Sung Dong, Ul:kin's creative director, delivered a speech. Choi Yi Hyun, CEO of Continew, spoke on "New from the end", Park Ju Young, a designer of Fair Trade Korea, said "The Future of Handcrafts", and Park Joong Yeoul, CEO of Jerry Bag, spoke on the topic of "Local and Social Value for Sustainability."
※ Article <Because they don't want to CREAT trash, OPEN PLAN | Yoo Ji Yeon, Joongangilbo, 2019. 10.20> with the brands at SFSS
From Left | Choi Yi Hyun of Continew, Lee Ok Sun of OPEN PLAN, Tara St. James of Pratt Institute Brooklyn Fashion + Design, Amy Hall of Eileen Fisher, Lee Sung Dong of Ul:kin, Yoo Jae Boo of Fashion N, Park Joong Yeoul of Jerry Bag
For our Sustainable Living and Fashion
Rent tumbler and electronic brochure for the event could look like a very small thing when we say sustainable living.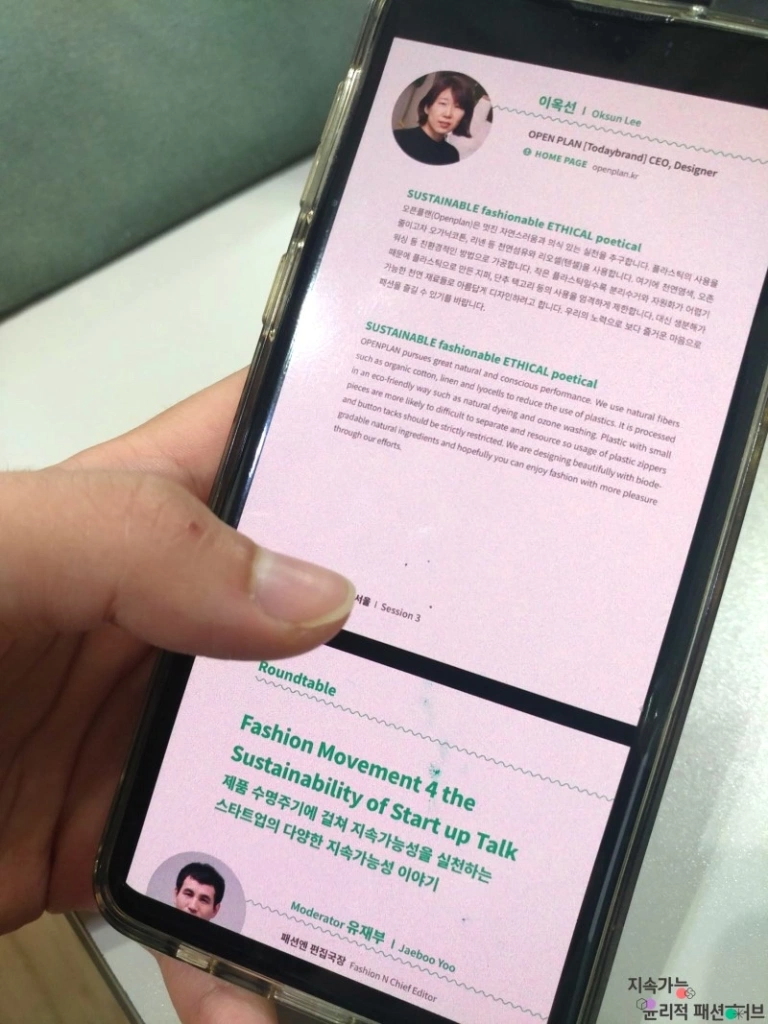 But not so long ago, it was so hard to do these very small things. I hope that we could design and practice more things in creative and sustainable ways.
We are the world
For sharing sustainable ideas, sustainable fashion experts from all over the world, Germany, India, U.K, and U.S participated in the summit. For welcoming, Park Won Soon, Mayor of Seoul, invited us to dinner and I was excited about this as much as the main event. However, he could not come due to his works and we could have a great dinner under the auspices of Choi Kyung Ran, CEO of the Seoul Design Foundation.
Have you felt that just having a meal together makes people friends? I have almost always.
While having a vegan meal with Sanita Rohira, the president of House of Anita Dongre Ltd, we talked about diverse food cultures from east to west.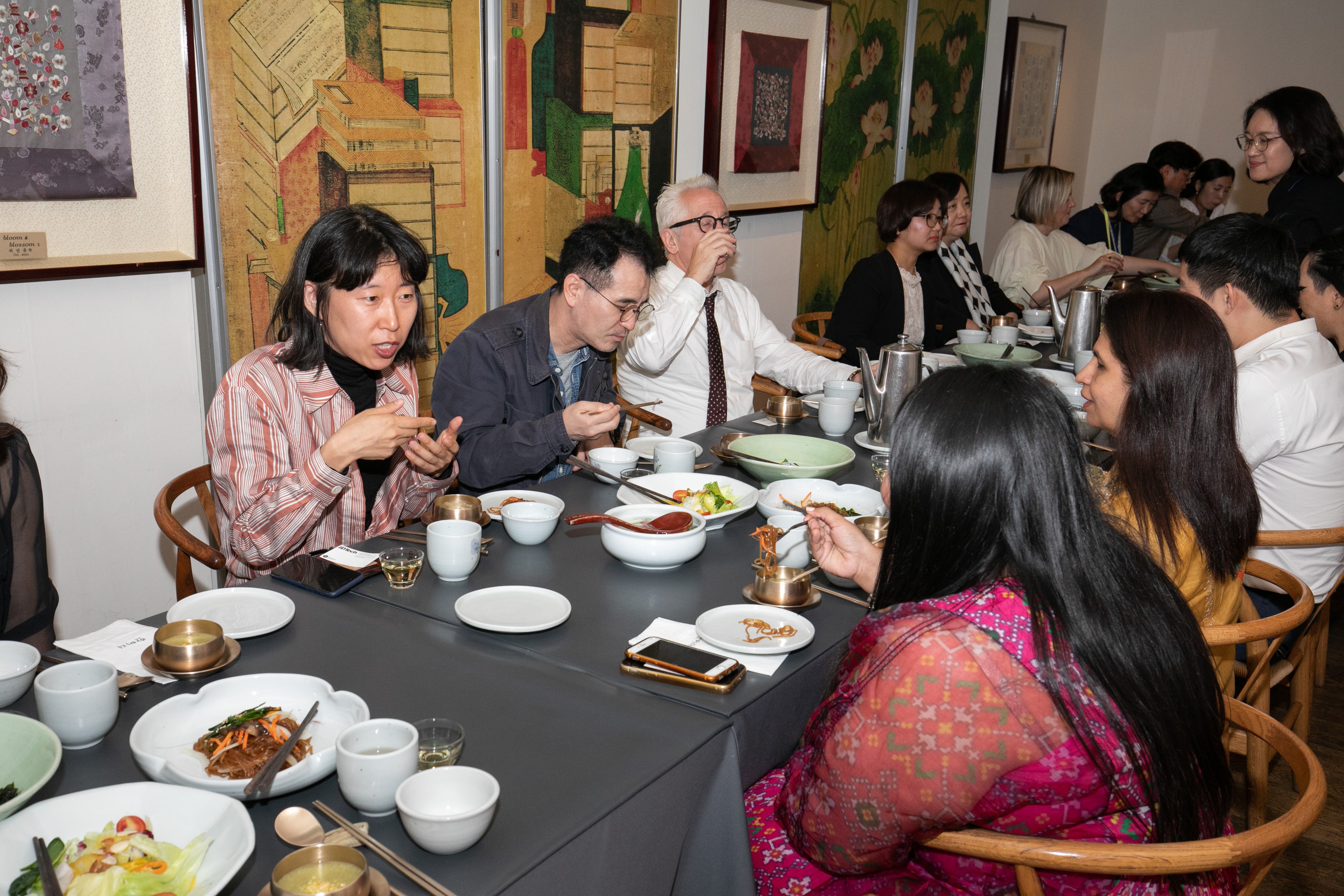 Also with Michael Ferraro, Executive Director of The FIT/Info Design and Technology Lab at theFIT, we had a talk about our sustainable ideas especially botanical dyeing.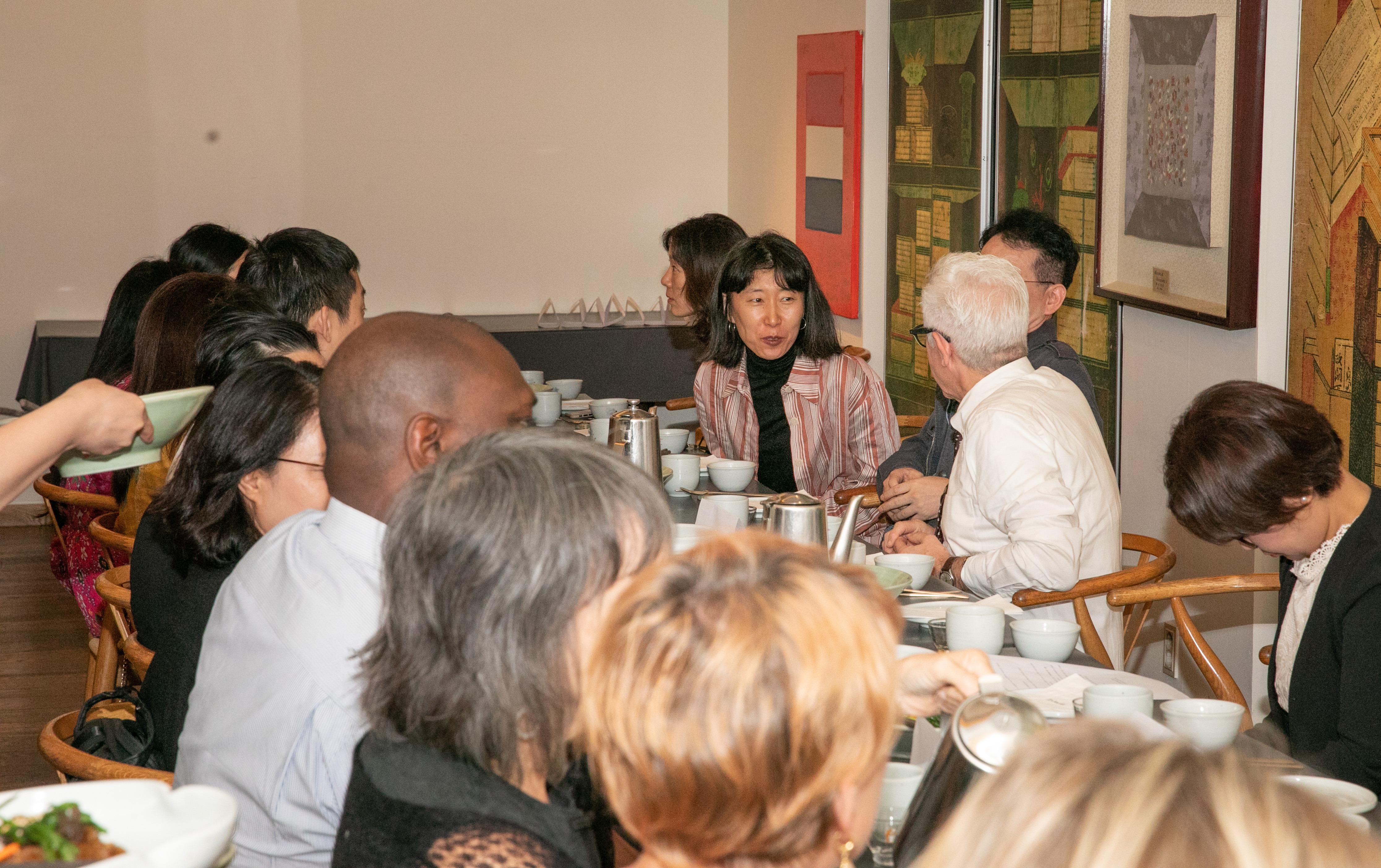 Do you agree that you need a long time of trial and failure to do good at something? SFSS and OPEN PLAN have about the same age. As I said, we have a long way to go, and we will join hands and move forward together. Thank you all for your hard works and for your interest in us!
at a closing party (the light green arm behind is mine 🙂
※ All photos 2019, Sustainable Ethical Fashion Hub
※ For this writing, I referred to the Sustainable Ethical Fashion Hub.